Commercial
Industrial
Warehouses
Residential
Concrete Repair - Historical Building Restoration - Waterproofing - Deck Coating
Certified Applicators for Industry Leading Brands
Waterproof, Non-Slip Coatings for Balconies, Floors,
Pool Decks, Driveways & Walkways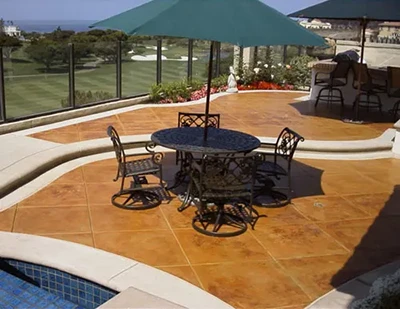 Concrete Restoration Systems is a licensed specialty contractor with over 28 years of experience in installing, maintaining, and repairing decorative concrete finishes for patios, pool decks, driveways, garage floors, walkways, and more. We use high-quality decorative coating systems made by the industry's leading manufacturers: Sika, WestCoat, Scofield Company, Tremco Inc., and Master Builders Solutions by BASF. These top-rated systems coupled with our superior workmanship ensure that our customers receive gorgeous, long-lasting results. Since 1990, we've served thousands of satisfied residential and commercial clients throughout Orange County, Los Angeles, Riverside, and San Bernardino, and earned a reputation as the best value for decorative concrete overlays in Southern California.
Reviews
Tom and his team at Concrete Restoration have been incredibly helpful with various complicated issues that have come up at our temple. Last year we purchased an old concrete church built in 1929, which we are now converting into a Buddhist temple.
We first met Tom when we were in a pinch, having just discovered that the parapet walls our roofer was about to cover with copper coping, had many cracks and spalls. . .
Exceeded my expectations. I had a major slab crack that needed repair before my wood flooring could be installed. Tom (president) personally inspected and bid the project. A sensible plan was proposed that worked within my budget. Work began the next day. When the project went outside the initial parameters during the later stages, the installers just took care of it without shaking me down for more $. Both the products and the workmanship were top notch. Very professional.
Tom, you are a man of his word in fulfilling my requests.
You are blessed to have a great crew. They are so conscientious, respectful and kind. They take great pride in their work.
Faux Finishes, Colored Concrete & Other Decorative Concrete Coatings
At Concrete Restoration Systems, we can revitalize your concrete surface with a beautiful and durable concrete overlay. We offer a wide range of colored concrete stains, polishes, and decorative faux finishes, such as tile, brick, stone, and abstract patterns, to create a look that complements the style and functionality of your property. Our waterproof epoxy coating systems have become a popular choice for home and business owners looking for a more appealing finish for their garage floor. We also offer non-slip coatings, which are great for warehouse floors and pool decks, and USDA-approved concrete coating systems for restaurants and food and beverage manufacturing plants. We recommend protecting your decorative concrete floor with a sealer and reapplying the decorative concrete coating system every 5-10 years to keep your floor looking its best.
Call Today for a Free On-Site Decorative Concrete Finish Consultation
Call Concrete Restoration Systems today for a free estimate on decorative concrete services in Los Angeles County, Orange County, Riverside, or San Bernardino area. We have the knowledge and skill to transform any concrete surface with our durable and versatile decorative coating systems. We'll discuss our design options and provide recommendations for achieving your desired results while staying within your budget.